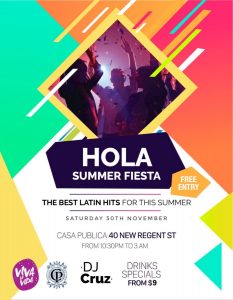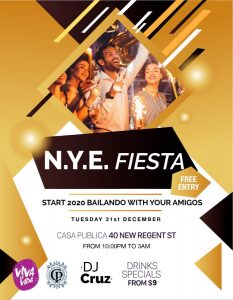 "Hola Summer Fiesta" - Saturday 30th November 2019 - From 10:30pm to 3am - Casa Publica - Latin DJ Cruz 
"NYE Fiesta" - Tuesday 31st December - From 10pm to 3am - Casa Publica - Latin DJ Cruz
Come and celebrate the start of Summer and the start of 2020  together with the best Latin hits played by Latin DJ Cruz.
Come to the party and receive a gift to redeem in NYE Fiesta!!! 🥳
Special drinks all night long and the best music combined with the best atmosphere!
You know the place, you know the parties...... Nos vemos en la fiesta amigos !!!
Don't forget to bring your ID if you look under 25!!!
Si!!!! Free entry!!!!
Hola Summer Fiesta FB: https://www.facebook.com/events/2658176254220383/
NYE Fiesta FB: https://www.facebook.com/events/531366364312884/